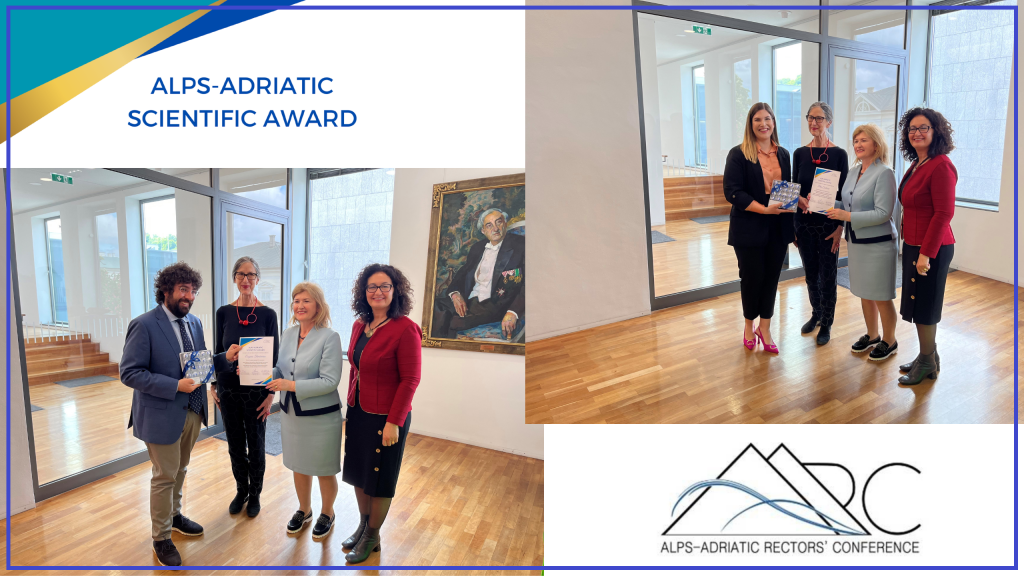 In order to encourage young scientists of the Alps-Adriatic region to conduct research that is of crucial importance to the region itself, the Alps-Adriatic Rectors' Conference (AARC) has proudly launched the Alps-Adriatic Scientific Award, with the first Call for Applications in November 2022.
The prizes for outstanding master's and diploma theses as well as dissertations focusing on topics and issues of the Alps-Adriatic region were awarded on 13 May 2023, within the framework of the AARC Meeting of the General Assembly, honouring two dissertations and two diploma/master's theses. The winners are (ordered by category and alphabetically):
Ana-Mari Bošnjak/University of Sarajevo, "Europeanization of local self-government in transition countries" (PhD Dissertation),
Eugenio Tamburrino/University of Ca' Foscari, "Aquae Alpinae: Water in the Eastern Alps during Roman times. Water supply, discharge, management and social aspects" (PhD Dissertation),
Lisa Mentzl/University of Klagenfurt, "Bees, Balkans, Branding. Slovenia's Approach to the Staging of National Identity" (master's thesis), and
Petra Sušilović/University of Mostar, "Hydraulic numerical analysis of groundwater flow in the area of the left hinterland of the dam of Mostar hydroelectric power plant" (diploma thesis).
The Alps-Adriatic Rectors' Conference heartily congratulates and thanks all award winners and participants as well as the involved AARC colleagues and institutions, and is very much looking forward to the next edition of the successfully established Alps-Adriatic Scientific Award (the next Call for Applications is currently planned for 2024)!
On the picture: Winners Petra Sušilović and Eugenio Tamburrino, Elisabeth Gutjahr/University Mozarteum Salzburg/AARC President 2023, Suzana Golemi/University of Shkodra/AARC President 2022, Cristina Beretta/University of Klagenfurt/President of the Award Committee (Copyright: Katharina Grafenauer)